Thanks to A.L. Kay I have found a new author to follow. She is a very talented writer for Paranormal lovers! So while your looking for some awesome October reads don't forget to check out A.L. Kay, M.R. Murphy, River Jordan, Rue Volley book called Red Wine. You can buy it at Amazon and Vamptasy.

So without further ado let me introduce you to Veronica Blade, Author of Something Witchy This Way Comes........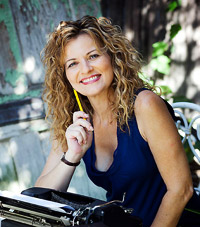 Bitten early by the writing bug, Veronica wrote a play at age 12. It was produced by her school, but alas, with the distractions of life, a career in writing was not to be … just yet.
She grew up in Southern California and currently resides there with her husband. They have three children between them and a very playful Bichon Frise. Her and the hubby own and run a real estate inspection company and both are active in charity work. When not busy with her day-to-day activities, Veronica can be found riveted to her laptop, happily writing.
Veronica's Novels are:
My Wolf's Bane coming out January 2012
What undiscovered abilities might I have? With my body's ability to heal rapidly, could I be killed? Would I require a stake through the heart like a vampire or a silver bullet like a werewolf? Werewolves, vampires and leprechauns… They were probably in the forest now, watching me.
I laughed. Sure, Autumn.
But Zack was real and he'd been unusually agreeable earlier. Why the sudden change? How long would it last? Racing between trees, I worked off my frustration at him and the events of the past week. Like lightening, I charged through the forest, furry little animals scampering in my wake. As my lungs effortlessly took in air, a familiar scent met me and I slid to a halt, bits of dirt spraying the nearby shrubs.
Wolf.
He came into view beyond a clump of trees, black and magnificent.
A Bite's Tale coming out 2012
Paralyzed by a stake to the heart, Noah is trapped in darkness then left in the woods for dead. When the stake is removed, he opens his eyes and recognizes his rescuer – the pretty loner girl from school. He should run rather than risk her discovering what he is. But without feeding, he's too weak and with no protection, the enemy will easily finish the job. The girl acts resentful that she's stuck with him, but gentle hands and acts of kindness betray Sofia's true character. Noah is intrigued. He needs to know what she's hiding. He needs to know her. But if he doesn't free her of his world, and soon, the vampire hunters will target Sofia, too.
For Sofia, being alone isn't a whim. It's the criteria for sanity. She's already been institutionalized for being "crazy" and lost her friends for being a "stalker." But if anyone finds out she's a witch, worse could happen. But Sofia takes care of the strange and startlingly beautiful boy anyway, who's been stabbed in the chest. And she begins to long for more. If she stays in the battle, it isn't just her physical safety threatened but everything she's worked so hard to win back – her heart and soul. Peace. Still, she can't let him go or she'll lose the part of herself that makes her feel — the part that makes her whole, that she never thought she'd see again.
You can view Veronica's stuff in her website @
http://veronicablade.com/
Twitter @VeronicaBlade
Brainiac Tessa McClean's newly discovered magical powers give her hope of an escape from her inadequate life. But the thrill of being a witch fades when she learns of a rival coven and begins to suspect her own coven's objective. Evidence tells Tessa to trust one side, but instinct drives her toward the other.
When Hayden Anders, the most delinquent kid in school — and the toughest — offers self-defense lessons in exchange for tutoring, the timing couldn't be better. Though the idea of hanging out with a bad-boy that tempting is unnerving, staying alive amidst warring witches takes priority. She vows to hold onto her values and not surrender to the bad-boy she begins to secretly want.
Together, Tessa and Hayden uncover the truth about the two factions — a truth that explains why the covens will stop at nothing to lure her to their side. Tessa has only a matter of weeks to form an alliance with one coven or the other, but the wrong decision could cost Tessa the lives of all those she loves — including Hayden.
You can purchase this e-book @ http://www.amazon.com/Something-Witchy-This-Comes-ebook/dp/B005L9B0MM/ref=sr_1_1?s=books&ie=UTF8&qid=1319329757&sr=1-1