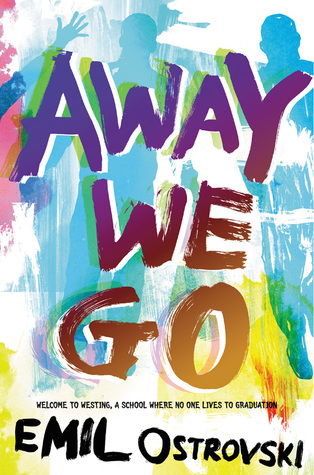 KIRKUS - "Intellectual boys' boarding school story meets near-future dystopia in this end-times tale...the imminent apocalypse serves primarily to accelerate the claustrophobic immediacy of boarding school angst. Noah and his friends form loving, believably complex relationships, caroming from suicidal ideation to conspiracy theory to a quest for the sacred in mundane death. Lovers of self-consciously witty nihilist profundities will be thrilled..."
Westing is not your typical school. For starters, you have to have one very important quality in order to be admitted—you have to be dying. Every student at Westing has been diagnosed with PPV, or the Peter Pan Virus. No one is expected to live to graduation.
What do you do when you go to a school where no one has a future? Noah Falls, his girlfriend Alice, and his best friend Marty spend their time drinking, making out, and playing video games on awaywego.com. But when an older boy named Zach (who Noah may or may not be in love with) invites Noah and Marty to join his secret Polo Club, the lives of both boys change as they struggle to find meaning in their shortened existence.
With an innovative format that includes interstitial documents, such as flyers, postcards, and handwritten notes, Away We Go is a funny, honest look at first love and tragic heartbreak. For fans of Grasshopper Jungle and Noggin.
First I have to start out by saying I liked this book but I didn't like some parts to it. I have read a lot of books this year but this one stands out in so many ways both good and bad. The setting is in a Boarding School for kids. What these kids are allowed to do and how they are allowed to act was a little strange for me when I was reading. The one thing that stood out for me was one of the main characters had some issues and he dealt with them as being simple.
In this story we meet best friends Noah, Alice, and Marty. They are attending this exclusive Boarding School for kids who have a virus. They live their lives day to day and have no ambitions to do anything. Their day consists of mundane things like video games and hanging with friends. Then things change one night for them when an older boy Zach invites them to be a part of his secret club.
Once they join this club things change and they have to decide what they are willing to do and willing to believe. What will they do? Stay in the group or leave it and try to move on with their lives?
I'm twenty-five.
Rather than give you a witty, self-deprecating account of the trials and tribulations of my twenty-five year old, suburban, upper-middle class, went-to-a-girl's-liberal-arts-college life, I'll admit that I haven't really done anything much worth reading about.
So in lieu of providing you with my biography, I will recommend that you read Desmond Tutu's.
Here.
Why Desmond Tutu?
Well, I've always liked his name.