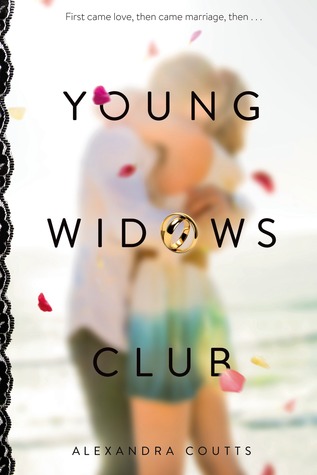 First came love, then came marriage, and then...
For seventeen-year-old Tam, running off to marry her musician boyfriend is the ideal escape from her claustrophobic high-school life on the island, and the ultimate rebellion against her father and stepmother. But when Tam becomes a widow just weeks later, the shell-shocked teen is forced to find her way forward by going back to the life she thought she'd moved beyond—even as her struggle to deal with her grief is forcing her to reinvent herself and reach out to others in ways she never imagined.
Okay first I have to say that this book was both crazy and maddening for me. I loved to love it and I loved to hate it. I mean getting married at such an early age was a new one for me. I have been married for many years and it took me a lot to get married because it is a serious matter and when Tam got married she was happy until tragedy happened to her.
She is only 17 years old and she loses her husband. After losing her husband she knows she has to start her life all over again. She does not want to go back to her home town because there was nothing there for her so why go back to nothing. But she knows she has to do something to move on. Be fore she does she will go through a series of ups and downs and decides she needs to start a therapy group called The Young Widows Club.
This club will help Tam and others heal from the pain of the loss of a spouse. This book will have you both yelling and crying because it is so emotional.
Alexandra Coutts is the author of
Tumble & Fall
– a critically acclaimed YA novel about three teens who, knowing the world will end in less than a week, set out to make the most of the time they have left. Coutts' YA debut, Wish, was published under her maiden name, Alexandra Bullen.
Alex was born in Boston, Massachusetts and grew up in a nearby suburb. After high school, which she survived mostly by reading and writing, she moved to New York City, where she attended the Gallatin School of Individualized Study at New York University. She chose Gallatin because of its very long name, and also because there were no math or science requirements. Again, she was able to excel by studying only the things she loved: books, writing, and writing about books. To this day, she counts on her fingers and has no idea what happens to water when it freezes.
During college, Alexandra wrote a play called Wordsworth, about a single mother and her son, a spelling bee champ. The play received a production at The Cherry Lane Theater in downtown Manhattan. As a result of the unparalleled experience of seeing the insides of her brain on stage, Alexandra attended the MFA Dramatic Writing Program at NYU's Tisch School of the Arts, not just because of its even longer name, but also because it meant she didn't have to move. At Tisch, she studied playwriting, screenwriting and television writing, before deciding that what she really wanted to do was write books for teenagers.
After nearly a decade of city slicking, Alexandra now lives on Martha's Vineyard, an island off the coast of Massachusetts. She writes mostly at home, and usually in her pajamas. More than writing, she loves to read. Current and long-time favorites include: The Sound and the Fury by William Faulkner, To The Lighthouse by Virginia Woolf, Nine Stories by J.D. Salinger, and pretty much anything by Judy Blume. She is also a strong believer in the survival of print journalism, and does her part by racking up more magazine subscriptions than can fit in her post office box.
When not writing or reading, she can usually be found scouring the On Demand channels, in order to panic about how behind she is on all of the awesome shows people tell her to watch. She also enjoys: cookbooks with pictures, certain styles of yoga, and chasing down her dogs, Whiskey and Venga.
In the warmer months, she runs a skateboarding day camp with her husband, despite not actually knowing how to skateboard herself.
Say Hello!