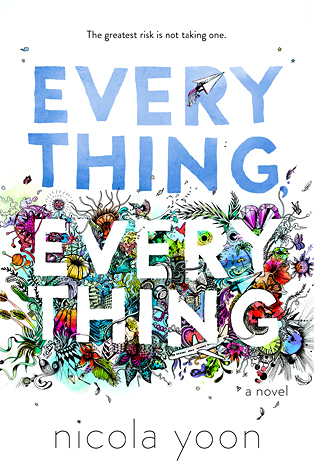 This innovative, heartfelt debut novel tells the story of a girl who's literally allergic to the outside world. When a new family moves in next door, she begins a complicated romance that challenges everything she's ever known. The narrative unfolds via vignettes, diary entries, texts, charts, lists, illustrations, and more.
My disease is as rare as it is famous. Basically, I'm allergic to the world. I don't leave my house, have not left my house in seventeen years. The only people I ever see are my mom and my nurse, Carla.
But then one day, a moving truck arrives next door. I look out my window, and I see him. He's tall, lean and wearing all black—black T-shirt, black jeans, black sneakers, and a black knit cap that covers his hair completely. He catches me looking and stares at me. I stare right back. His name is Olly.
Maybe we can't predict the future, but we can predict some things. For example, I am certainly going to fall in love with Olly. It's almost certainly going to be a disaster.
Okay I first have to say this about this book. At first after reading the description I thought what a girl who has never left her house ever????? Is her parents crazy, is she crazy. Then I started to wonder where the author was going with this story and as I started to read I could not get enough of this story and the characters. My favorite character is Madeline and to watch her grow and realize what life is like with the aide of Olly her new friend is amazing.
Madeline has a hard life because she is allergic to the world and she can't leave her house. She has never been outside but she looks out the windows and watches people and the changing seasons. I have to say that this book really grabbed my heart as I have a nephew who is allergic to chicken and we found out after we gave him the chicken and he stopped breathing.
One day Madeline is looking out her room window and she sees a moving truck next door and sees this tall boy dressed all in black. She is curious about him and wants to get to know him but she can't because she is stuck in the house. Then her and Olly start talking and Madeline's life starts to change and she begins to see that the outside world is not the only thing that can hurt her but the secrets and lies her mother hides from her will change the way she will live her life from now on.
Will Madeline go outside or will she stay inside in her bubble life?
I believe in love. Really, truly.
I'm kind of a hopeless romantic.
In a former life I made jewelry. You can see some of it
here
.
I love Karoake, but I cannot sing. I. Am. The. Worst. My song of choice is "Making Love out of Nothing at all" by Air Supply, because AIR SUPPLY.
I hand write my first drafts.
I keep all the empty pens.
I was (am and always will be) a late bloomer.
In a former life I was French. I could live entirely on wine & cheese.
Or maybe Korean because I could live on Kimchi & Gablee too.
FOLLOW, FOLLOW, FOLLOW ME