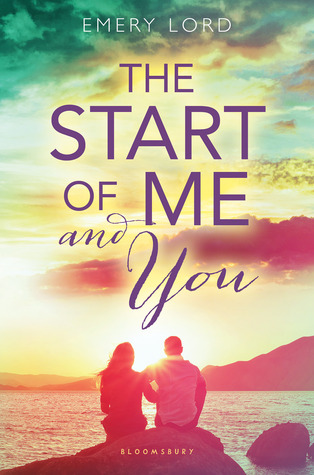 Following her pitch-perfect debut Open Road Summer, Emery Lord pens another gorgeous story of best friends, new love, & second chances.
Brimming with heartfelt relationships and authentic high-school dynamics The Start of Me and You proves that it's never too late for second chances.
It's been a year since it happened—when Paige Hancock's first boyfriend died in an accident. After shutting out the world for two years, Paige is finally ready for a second chance at high school . . . and she has a plan. First: Get her old crush, Ryan Chase, to date her—the perfect way to convince everyone she's back to normal. Next: Join a club—simple, it's high school after all. But when Ryan's sweet, nerdy cousin, Max, moves to town and recruits Paige for the Quiz Bowl team (of all things!) her perfect plan is thrown for a serious loop. Will Paige be able to face her fears and finally open herself up to the life she was meant to live?
The Start of Me and You is one of those stories that grabs you in by the first page and keeps you reading until you are on the last page screaming no way I need more I want more. I could picture Paige in my head the entire time I was reading thinking to myself she is one strong girl to finally decide that after two years she is ready to go back to school and start over again.
See Paige's first boyfriend died in a horrible accident two years ago. It sent Paige into a black spiral and she shut everyone out and just lived day by day. All she can think about day and night is her true love and wanting him to come back to her. But after two years of grieving she is finally ready to go back to school. She even has a plan for going back to school that will help her transition easily.
Her plan you want to know is:
1. Get her old crush Ryan Chase to date her so she won't be such a social outcast because she has been away from school for so long.
2. Join a club any club to keep her busy.
Sounds simple right? Well things don't turn out like she thought. For one Ryan's cousin moves to town and catches Paige's eye. The real kicker is when Max recruits Paige for the quiz bowl team. At first Paige is like WTH is going on with me but she goes with the flow and finds out that change is good for you and learning to open up and trust others is the best way to heal.
Emery Lord is a 20-something Midwestern girl who writes stories about high school and best friends and weird families and the crushes that make you feel combustibly alive and also more awkward than you thought was possible. If you're not sure how to pronounce Emery, try slurring the name "Emily," and that will get you really close.
She lives in Cincinnati in a 100 year-old pink row house with her BFF/husband, a closet full of dresses, and lots of books. If karaoke-ing in grocery store aisles or guzzling coffee while impulse shopping were illegal, Emery would be writing her overemotional YA books from jail. Also, she makes up words sometimes. Like combustibly.
OPEN ROAD SUMMER
, her first YA novel, is out now with Bloomsbury. Her second, The Start of Me & You, will be released March 31, 2015.
email: emerylord[at]gmail[dot]com
twitter: @emerylord
What font is your header?
Bombshell Pro
Where did you find that typewriter illustration?
What did you major in?/What should people who want to be writers major in?
I majored in communications/PR. But I also finished an English Literature major, after taking so many lit classes as electives. As for the second question, I'm not sure! I can tell you that, at least for me, an English Lit major was enjoyable, and I got a lot out of it. I spent class after class doing a couple of things: consistently reading outside of my comfort zone, being forced to examine many aspects of different texts, hearing my classmates' thoughts/questions, and using self-discipline and critical thinking to make cohesive arguments about books--some I felt strongly about and some I didn't. All those things have been worth their weight in book pages as I consider my own work.
Have you always written?
I've always enjoyed writing, but it wasn't until right after college that I started trying to write fiction. I have, however, always read widely and passionately and critically. So, if you're a reader who thinks you might like to be a writer, you're already on the right track!
How did you get published?
I wrote a draft of a book -> revised it (with a critique partner who is insanely talented) -> queried a few agents -> was offered representation -> went on submission with my manuscript -> received offers! (Every arrow also represents angst and self-doubt.)
Who is your agent?
How did you get your agent?
The old-fashioned way: slush-pile, baby.
When will your first book be out?
It's out!
What's it about?
Friendship, traveling across America, summertime and music. Trying to figure out who you are and who you want to be. Sometimes hanging on, sometimes moving on. Coming to terms with your past. Peeking over your walls long enough to meet someone who might be worth tearing them down. Fireworks-the 4th of July kind and the other kind. And
more
.
Is the second book going to be a sequel?
Nope, OPEN ROAD SUMMER is what's called a "standalone." That means that, by the end of the book, I left the characters where I think they belong.