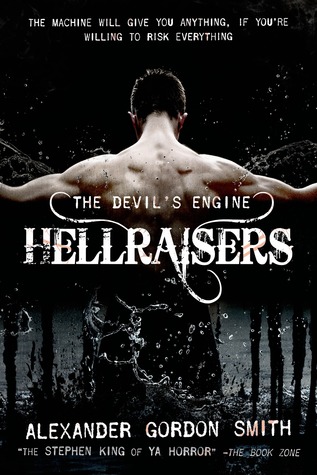 From the author of the Escape from Furnace series, an explosive new horror trilogy about an ordinary American kid caught up in an invisible war against the very worst enemy imaginable.
There is a machine from the darkest parts of history, concealed in an impossible location, that can make any wish come true, and the only price you have to pay is your soul.
Known as the Devil's Engine, this device powers a brutal war between good and evil that will decide the fate of every living thing on Earth. When a 16-year-old asthmatic kid named Marlow Green unwittingly rescues an ass-kicking secret soldier from a demonic attack in the middle of his Staten Island neighborhood, he finds himself following her into a centuries-old conflict between a group of mysterious protectors and the legions of the Devil himself.
Faced with superpowers, monsters, machine guns, and a lot worse, Marlow knows it's going to be a breathless ride—and not just because he's lost his inhaler along the way.
Okay I first have to say that this book was both weird and kick ass at the same time.I can't pin point what this book is like but I have to say that I love a good book about good VS evil and Demons VS Angels. Love love love these kind of stories but this one was very weird that it had me at the edge of my seat. I started to read it and thought to myself that this is not for me but kept reading and I got into the books os much so I ignored everyone and everything around me.
In this story we meet Marlow Green who is a 16 year old asthmatic who lives in a world where he saves a secret soldier from a demonic attack. When he does this he does not realize he sets off The Devil's Engine who decides the fate of everything and everyone. But as we all know there is always a price to pay for what you want and the price the devil's engine wants is great.
The machine will grant you any wish but that saying watch out what you ask for defiantly applies in this case. I can't wait for this book to be released because I am going to re-read it because that is how much I liked it and I need to put some more things together for myself.
Gordon is the founder of
Egg Box Publishing
, an independent, non-profit imprint designed to publish and promote talented new writers and poets, and is the co-owner of
Fear Driven Films
, a production company filming its first feature.
He is also the founder of
Inkling Studios
, a brand new venture which specialises in creating books, films, television programmes and computer games for children and young adults. He actively encourages people of all ages to read and write, and runs creative writing talks and workshops across the world. In 2009 he was named by the Courvoisier Future 500 as one of the most promising young entrepreneurs in the United Kingdom.
He is called Gordon, rather than Alexander, because his Mum and Dad liked the name Gordon but didn't want his initials to spell GAS, so called him by his middle name. To find out more…
click here!