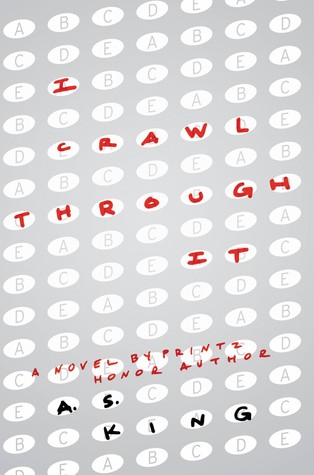 Our big explosion is coming any day now.
Can't you hear the ticking?
Four accomplished teenagers are on the verge of explosion. The anxieties they face at every turn have nearly pushed them to the point of surrender: senseless high-stakes testing, the lingering damage of trauma, the buried grief and guilt of tragic loss. They are desperate to cope—but no one is listening.
So they will lie. They will split in two. They will turn inside out. They will build an invisible helicopter to fly themselves far away from the pressure…but nothing releases the pressure. Because, as they discover, the only way to truly escape their world is to face it.
The genius of acclaimed author A.S. King reaches new heights in this groundbreaking work of surrealist fiction; it will mesmerize readers with its deeply affecting exploration of how we crawl through traumatic experience—and find the way out.
I Crawl Through It is an amazing just simply amazing book. I have read a lot of books in my lifetime that has tackled serious issues but none like this. I mean I started reading the book early afternoon and finished it the next afternoon because I could not put it down.
Life as a teen can be crazy but add in a few issues and these four teens find out that life is not over just because you have gone through a trauma. You can get help and you can trust your friends all you have to do is reach out for the help.
We have one teen who deals with date rape. Another who deals with anxiety. Another who deals with neglect. And another who deals with pressure. These teens think the world is coming to an end but they soon realize that all they have to do is crawl through it and take baby steps in order to heal and cope with the issues that are front and center in their lives.
This is one of those books that I say is a must read because it deals with real life issues and how to deal with them. Being a teen is tough but add a trauma and it can be disastrous for the teen facing the issues.
A.S. King is best known for her award-winning young adult novels, though she writes novel-length and short fiction for adults as well. After more than a decade in Ireland dividing herself between self-sufficiency, restoring her farm, teaching adult literacy, and writing novels, she returned to the US in 2004.
Amy's newest YA novel,
Glory O'Brien's History of the Future
has garnered six starred trade reviews and landed on several end of year best lists since its release in October 2014.
Reality Boy
(October 2013) was a A New York Times Editors' Choice,Publishers Weekly, Kirkus and School Library Journal Best Book of 2013, a Junior Library Guild Selection, Amazon Best Books for October, and a Winter 2013-2014 Kids' Indie Next List Top Ten pick.
2012's
Ask the Passengers
(Little, Brown October 2012) is aLos Angeles Times Book Prize Winner, a Junior Library Guild selection, a Kirkus Reviews, Publishers Weekly & School Library Journal Best Book of 2012, an Indie Next List pick and has been called "Another thoughtful, and often breathtaking achievement" byBooklist in one of six starred trade reviews for the book.
Everybody Sees the Ants
(Little, Brown October 2011) was an Andre Norton Award finalist, a Cybils finalist, and a 2012 YALSA Top Ten book for young adults. Her 2010 YA novel,
Please Ignore Vera Dietz
was a 2011 Michael L. Printz Honor Book, an Edgar Award Nominee, a Kirkus Reviews Best Book for Teens 2010, a Junior Library Guild selection and a YALSA Best Fiction for Young Adults pick. Her first YA novel,
The Dust of 100 Dogs
, was an ALA Best Book for Young Adults, an Indie Next pick and a Cybil award finalist.
Her short fiction for adults has been widely published and was nominated for Best New American Voices 2010. Her short fiction collection,
Monica Never Shuts Up
is available in paperback and all ebook formats.
Amy now lives in Pennsylvania with her husband and children, teaches writing at Vermont College of Fine Arts MFA program, and is a huge fan of Kurt Vonnegut, corn on the cob, libraries, and roller skating.
Visit her full website
here.