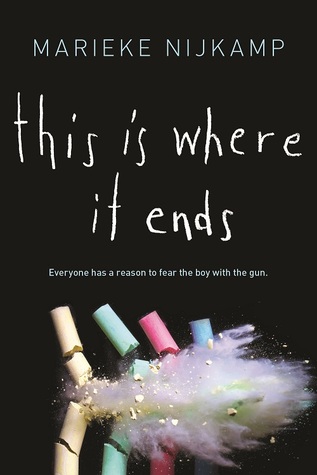 10:00 a.m.
The principal of Opportunity, Alabama's high school finishes her speech, welcoming the entire student body to a new semester and encouraging them to excel and achieve.
10:02 a.m.
The students get up to leave the auditorium for their next class.
10:03
The auditorium doors won't open.
10:05
Someone starts shooting.
Told over the span of 54 harrowing minutes from four different perspectives, terror reigns as one student's calculated revenge turns into the ultimate game of survival.
This Is where It Ends is a book every child should read. School shootings are becoming the norm in today's society. It saddens me that children feel the need to kill someone instead of talking to someone about their problems.
TIWIE is told from four points of view. Claire, Tomas, Sylvia, Autumn. What you get is so much from this story. Someone has been raped, someone is a closest lesbian, and another is scared to be themselves. The shooter you would never believe because they come from a good family and is very brilliant but is bullied and secretly the shooter has anger issues and hidden depression.
As you read from everyone's point of view several stories unfold and what you get is so heart wrenching that it is told just like it is happening minute by minute. Second by second and you can feel the fear the person is feeling right before being shot. This is a must read for all students because you never know when your child's school could be next.
Marieke is a storyteller, dreamer, globe-trotter, and diversity advocate. She holds degrees in philosophy, history, and medieval studies, and wants to grow up to be a time traveler.
In the midnight hours of the day, Marieke writes stories full of hope and heartbreak. Her debut YA novel THIS IS WHERE IT ENDS will be out from Sourcebooks Fire in 2016.
NOTE: While I love Goodreads, I don't spend a lot of time here, so I'm dreadfully slow in responding to questions or requests. You're always welcome to tweet or email me though!
NOTE, PART TWO: I so appreciate everyone taking the time to read and discuss my book! I do not respond to reviews, but whether you love or hate my book, thank you for sharing your thoughts!