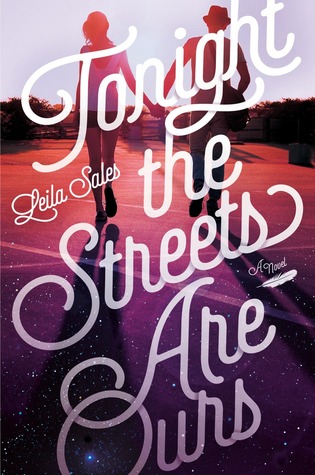 From the author of This Song Will Save Your Life comes a funny and relatable book about the hazards of falling for a person you haven't met yet.
Seventeen-year-old Arden Huntley is recklessly loyal. Taking care of her loved ones is what gives Arden purpose in her life and makes her feel like she matters. But she's tired of being loyal to people who don't appreciate her—including her needy best friend and her absent mom.
Arden finds comfort in a blog she stumbles upon called "Tonight the Streets Are Ours," the musings of a young New York City writer named Peter. When Peter is dumped by the girlfriend he blogs about, Arden decides to take a road trip to see him.
During one crazy night out in NYC filled with parties, dancing, and music—the type of night when anything can happen, and nearly everything does—Arden discovers that Peter isn't exactly who she thought he was. And maybe she isn't exactly who she thought she was, either.
Okay I first have to say that I was very surprised by this book. You go into reading this book thinking one thing and at the end you get something different.
You have Arden Huntley who is a loyal girl to her family and friends. She does everything for them and she is tired of being a stepping stool. All she wants is to be loved and cared for. Instead what she gets is a load of worries and learning how to fake it to make it. Then a bright side comes for her in the form of a blog named Tonight the Streets Are Ours written by a boy named Peter.
Peter created this blog Tonight the Streets Are Ours to blog about things going on in New York where he lives. Then he gets dumped by his girlfriend and he starts to blog about the break-up. Arden being the care taker she is decides she is going to drive down to New York and help Peter get over his ex-girlfriend.
When Arden gets to New York she and Peter have a night of fun. They do everything and anything they want to do and soon Arden sees that Peter is not the person she thought he was. She's starting to see that everything is not always as it seems and could be looked at in a different way. Arden learns that love can sometimes hurt.
I was born in 1984, and I grew up outside of Boston, Massachusetts, with my parents and our cat. When I was little, I wanted to grow up to be a writer, actress, or singer. The writing part turned out to be easiest to accomplish, since it turns out I can't really carry a tune, though I can do a pretty compelling karaoke rendition of "Hey Mickey."
I wrote and illustrated approximately one million picture books when I was in elementary school, all of them about unicorns or cats or princesses, or princess unicorns who were best friends with princess cats. When I was seven, I wrote a longer story about quintuplets named Marissa, Larissa, Clarissa, Melissa, and Alyssa. The quintuplets were not princesses, but they did get invited to a royal ball.
During middle school and high school, I wrote five unpublished YA novels. I also acted in plays, competed in gymnastics meets and debate tournaments, babysat, and did an awful lot of schoolwork. My favorite school subject was math, and my worst subject was either science or Spanish.
I went to college at the University of Chicago, where I majored in psychology. I also performed in Off-Off Campus (an improvisational and sketch comedy troupe), competed in debate tournaments all over the world, helped judge the world's largest scavenger hunt, and wrote a humor column for the school paper. And I wrote another unpublished YA novel, for which I was awarded the Olga and Paul Menn Foundation Prize for Fiction Writing.
After graduating, I got a job at a children's book publishing company in New York City, where I remain to this day. My first novel was published in 2010, and since then, I've just kept working on more. During the daytime I read other people's books, and during the nighttime I write my own. What more could I need?