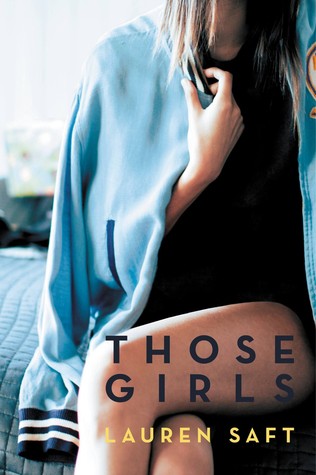 Some girls will always have your back, and some girls can't help but stab you in it.
Junior year, the suburbs of Philadelphia. Alex, Mollie and Veronica are those girls: they're the best of friends and the party girls of the school. But how well does everybody know them--and really, how well do they know one another? Alex is secretly in love with the boy next door and has joined a band--without telling anyone. Mollie suffers from a popular (and possibly sociopathic) boyfriend, as well as a serious mean streak. And Veronica just wants to be loved--literally, figuratively, physically....she's not particular. Will this be the year that bonds them forever....or tears them apart for good?
Lauren Saft masterfully conveys what goes on in the mind of a teenage girl, and her debut novel is raw, honest, hilarious, and thought-provoking, with a healthy dose of heart.
Those Girls is one of those books that will have you yelling and pissed then crying because there is so much going on. This is such an accurate account of high school girls who are popular but have deep down secrets that not even their best friends know about.
In Those Girls we meet three girls who are so different from one another but they have no idea their friends deep down secrets. We meet Alex who has secretly joined a band and is in love with her next door neighbor. Mollie seems to have it all and that includes having a great boyfriend but secretly he is abusing her and controlling her every move.Then you have Veronica who is called the town slut when all she wants is to be loved and have someone to call her own.
These girls party together, share everything or so they thought. Reading this book made me sad at some points because I could imagine feeling not loved and dejected and abused. The one thing that keep coming back to my mind was that schools and parents really need to be more involved with their children. They need to know what is going on and what there children are doing. The teenage years are the years where kids grow up and learn everything.
Lauren Saft holds an MFA from the University of San Francisco and a Bachelor's degree from Tufts University. She's worked in publishing, TV, education, child care, retail, journalism, and food service, all the while closely studying the habits and compulsions of teenage girls. She currently works as a TV producer in Philadelphia where she lives with her cat and creative inspiration, Desi. Her work has been published in Five Quarterly, Rap Up Magazine, and clubplanet.com. One time, she met the Olsen twins. Those Girls is her debut novel.