The sequel to "Tricks," Hopkins' latest book follows five teenage victims of sex trafficking — from all walks of life and gender orientations — as they try to extricate themselves from their current situations and find a new way of life.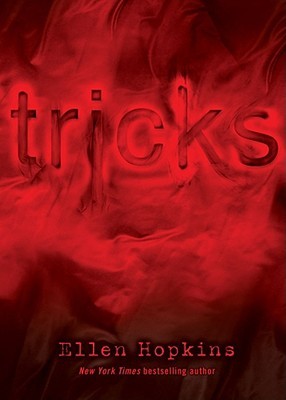 Five teenagers from different parts of the country. Three girls. Two guys. Four straight. One gay. Some rich. Some poor. Some from great families. Some with no one at all. All living their lives as best they can, but all searching...for freedom, safety, community, family, love. What they don't expect, though, is all that can happen when those powerful little words "I love you" are said for all the wrong reasons.
Five moving stories remain separate at first, then interweave to tell a larger, powerful story -- a story about making choices, taking leaps of faith, falling down, and growing up. A story about kids figuring out what sex and love are all about, at all costs, while asking themselves, "Can I ever feel okay about myself?"
I have one word for this book after reading it "REALITY"
This is a story about five teenagers who have had some things in their life happen to them and they just don't know how to handle it. So decide that they are going to turn Tricks on the street to get the feeling they are looking for.
I have to say that Ellen had me crying, laughing and yelling at the kids because I wanted them to have a better life and make better choices and for one of the characters I could related to her.
What kept coming to mind is if you love someone and let them go, if they love you truly love you they will come back.
TRAFFICK (Tricks, #2) By: Ellen Hopkins
Release Date: November 3, 2015
Pages: 528
Publisher: Margaret K. McElderry Books
Five teens victimized by sex trafficking try to find their way to a new life in this riveting companion to the New York Times bestselling Tricks from Ellen Hopkins, author of Crank.
In her bestselling novel, Tricks, Ellen Hopkins introduced us to five memorable characters tackling these enormous questions: Eden, the preacher's daughter who turns tricks in Vegas and is helped into a child prostitution rescue; Seth, the gay farm boy disowned by his father who finds himself without money or resources other than his own body; Whitney, the privileged kid coaxed into the life by a pimp and whose dreams are ruined in a heroin haze; Ginger, who runs away from home with her girlfriend and is arrested for soliciting an undercover cop; and Cody, whose gambling habit forces him into the life, but who is shot and left for dead.
And now, in Traffick, these five are faced with the toughest question of all: Is there a way out? How these five teenagers face the aftermath of their decisions and experiences is the soul of this story that exposes the dark, ferocious underbelly of the child trafficking trade. Heart wrenching and hopeful, Traffick takes us on five separate but intertwined journeys through the painful challenges of recovery, rehabilitation, and renewal to forgiveness and love. All the way home.
Traffick where to begin on this amazing book. I mean in Tricks the first book Ellen had me at the edge of my seat. She had me laughing, crying, screaming and most of all hurting because this is reality for some teens.
I have seriously thought about opening up a ranch and saving teens who have been the sex trade. For the Preachers daughter Eden turning tricks in Vegas was fun at first but the funness started to wear off and she was rescued by a child prostitution rescue center. It is here that she will have to struggle to change her life and get back some normalcy.
My man Seth living in a farm land was disowned by his father. Not only is he disowned and shunned but he has n money and no place to go. So he does what he has to and starts tricking for the money to survive.
Cody started gambling and winning and just knew he was going to be a great gambler until reality hit and he was losing more than winning. It forces him into a life that he does not want to do and to make matters worse he is shot and left for dead.
Ginger who is so in love with her girlfriend that she can't see any other way runs away with her and ends up tricking and busted for soliciting an under cover cop. Arrested and booked on soliciting she has no one to turn to. What is going to happen to her?
Whitney who has it all. She was born into privileged spoil and given everything is tricked by a pimp to trick herself out for them so they can get drugs. See being a heroine addict is very expensive. Whitney will soon see that her dreams are slipping right through her hands with every bit of Heroine she takes.
In the end these five teens will have to look at life and find out if there truly is a way out of this mess they have created.


Ellen Hopkins is a poet, freelance writer, and the award-winning author of twenty nonfiction titles and five NY Times Bestselling novels-in-verse. She has published hundreds of articles on subjects ranging from aviation to child abuse to winegrowing. Ellen mentors other writers through her position as a regional adviser for the Nevada chapter of the Society of ChildrenÕs Book Writers and Illustrators (SCBWI). She is a regular speaker at schools; book festivals and writers conferences across the US, and now throughout the world.
a Rafflecopter giveaway