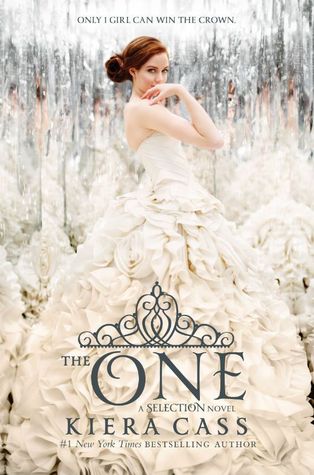 The highly anticipated conclusion to Kiera Cass's #1 New York Timesbestselling Selection series, The One will captivate readers who love dystopian YA fiction and fairy tales. The One is the perfect finale for fans who have followed America's whirlwind romance since it began--and a swoon-worthy read for teens who have devoured Veronica Roth'sDivergent, Ally Condie's Matched, or Lauren Oliver's Delirium.
The Selection changed America Singer's life in ways she never could have imagined. Since she entered the competition to become the next princess of Illéa, America has struggled with her feelings for her first love, Aspen--and her growing attraction to Prince Maxon. Now she's made her choice . . . and she's prepared to fight for the future she wants.
Find out who America will choose in The One, the enchanting, beautifully romantic third book in the Selection series!
There've been some misunderstandings about exactly how many books will be in the series, when they're out, and what they even are. I try to keep people updated as best I can, so I'm making this post for reference. Hope this helps!
There will be, in total, five full-length novels in the Selection world:
The Selection (2012)
The Elite (2013)
The One (2014)
The Heir (2015)
The Untitled Fifth Book (2016)
The first three are from America's perspective, and the final two are from her daughter, Eadlyn's.
There will also be a companion to the Selection Series entitled Happily Ever After which will be out October 2015. The contents of Happily Ever After are as follows:
The Prince (with the two bonus chapters), Maxon's novella
The Guard, Aspen's novella
The Queen, Amberly's novella
The Favorite, Marlee's novella
Three scenes from Celeste's POV
Lucy's scene (bonus scene from The One)
The bonus epilogue
Where are they now?
A map
Various illustrations
These will be ALL the works I make related to the Selection world. I have plans for other books (including the totally revamped version of The Siren that will be out in early 2016) and some other things I'm playing with. So this isn't the end of my books period… just the ones in Illéa. Feel free to leave questions, and I'll try to make this post as complete as possible. Thanks!
The announcement has just been made! Here's the official word via
Deadline.com
:
"
Warner Bros
has won film rights to
Kiera Cass
' global bestseller
The Selection
, the first of a five-novel series, and has set Black List scribe
Katie Lovejoy
to adapt it.
DiNovi Pictures
' Denise DiNovi and Alison Greenspan are producing with Pouya Shahbazian. Lovejoy's script The Arsonist Love Story made the 2010 Black List.
The book has sold 3.5 million copies worldwide, and two other volumes have been published. HarperTeen just made a two-book deal to continue the series, which is published in 32 languages. Described as The Hunger Games without the bloodshed, it follows 35 underprivileged girls who are chosen to compete to live in a life of luxury. The protagonist, America Singer, is sweet on a young man from her district, but when she's exposed to the opulence of a royal life, she's conflicted, even though a rebel uprising threatens the pampered.
As for Lovejoy, she recently developed a pilot for NBC, with Universal Television, Eva Longoria, and John Glenn producing. She previously wrote pilots for NBC, Bravo, and ABC and worked on the staff of the NBC series Dracula. She is repped by CAA and Myman Greenspan. Cass is repped by Red Tree Literary and New Leaf Literary & Media. Andy Fischel and Julia Spiro are overseeing for Warner Bros."
Sooooo, what are your thoughts on a possible Selection movie? I'm sure there will be lots of questions, and I'll try to get to those soon! Thanks for all your support, y'all! These things only happen because of you!
Lordy Lordy Lordy this review is so late but I am finally catching up and getting ready to read book four. I have to first say that this series is so kick butt I loved it it so much. At first I had my reservations about reading it but once I started reading it I could not put them down and read all three in a row and then I found out there were more books and I was excited because I needed to know what happened to the royals as well as the commoners.
America never imagined in her mind that she would be chosen for The Selection never mind thinking she would make it to the end and be one of the two ladies being chosen as the future Queen. America went through hell and back living in the castle away from her family and friends but she took it in stride and got to know Prince Maxon and began having feelings for him.
So when it was time for Prince Maxon to chose a wife she was shocked that right before the decision was made the Faction invaded the castle and started attacking the royals. America was worried sick about Max but she held on and kept thinking of good things and family and friends and how the selection was held. It seemed like days but only hours when she was able to be released from the secret room and reunited with her maids and Prince Max.
Prince Max having lost a lot of loved ones still needed to decide who his Queen was going to be and when he chose his Queen people were shocked. I was literally sitting on the edge of my seat and then when I finished the book I cried. Great series to read and I can't wait to read book four The Heir.
I am a graduate of Radford University with a B.S. in History. I grew up in South Carolina and currently live in Christiansburg, Virginia with my electrical engineer hubby, car-obsessed son, and princess-loving daughter. I'm a #1 New York Times bestseller, woohoo! I'm also a valued customer at my local cupcake shop.
Things I hate:
When people fail to use turn signals, flying, salads.
Things I love:
Office supplies, boy bands, desserts.
Being married. Cake. The smell of Autumn. Motherhood. Books. Elephants. Back rubs. On demand movies. Actually going out to movies. Faith. Cinnamon rolls. My family. Butterflies. When my kitchen is clean. Crayons. Pink. Tote bags. Dancing. Organizing via color coordination. That my wedding dress was tea length, not floor. Baking. My house. Writing utensils. Paper. India. The sound of water. Making videos. Buttons. The word Episcopalian. Making people laugh. Layering clothes. British accents. Pinterest. Animation. Fireworks. The smell of the Ocean. My wedding rings. Aprons. Reasons to get dressed up. Sex. Pop music. Stars. Taking walks. Daydreaming. Stickers. School Spirit. My friends. Living in a small town. Japan. Singing. Painting my toenails. Pranks/ practical jokes. Painting. Stretch canvas. Costumes. Dipping my fingers in melted wax. Style. Soda. Spending an hour typing at a coffee shop. Musicals. Back to school season. Mopeds. Good hair days. Naps. Not walking up but looking at a beautiful staircase. Driving alone. My ankles. Playlists. Spending entire days in pajamas. Holidays. Telling stories. Spontaneity. Theme parks. Bookshelves. The word copacetic. Boxes. Empty journals. Surprises. Doing things in groups. Doing things alone. Getting real mail. Decorating. Small forks. A good hug. Gift cards. New Years Goals. Going out to dinner. When someone else remembers some great story about me/us that I've forgotten. Toy stores. Fireplaces. Breakfast foods. Journaling. Crying for a good reason. Doorbells. Pointless adventures. Voting. My birthday. Reasons to make wishes. Recycling.