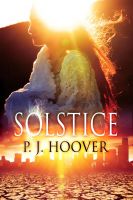 Title: Solstice
Author: P.J. Hoover
Series: Book # 1 of 2
Release Date: May 04, 2011
Source: Copy from author in exchange for a review
Blurb: Where Mythology and Dystopia meet...
Piper's world is dying. Global warming kills every living thing on Earth, and each day brings hotter temperatures and heat bubbles which threaten to destroy humanity. Amid this Global Heating Crisis, Piper lives with her mother who suffocates her more than the chaotic climate. When her mother is called away to meet the father Piper has been running from her entire life, Piper seizes an opportunity for freedom.
But when Piper discovers a world of mythology she never knew existed, she realizes her world is not the only one in crisis. While Gods battle for control of the Underworld, Piper's life spirals into turmoil, and she struggles to find answers to secrets kept from her since birth. And though she's drawn to her classmate Shayne, he may be more than he claims. Piper has to choose whom she can trust and how she can save the people she loves even if it means the end of everything she's ever known.
Warning: This book is CALIENTE! HOT… HOT… HOT….
My Rating:
My Cover Thoughts: The artist for this cover really kicked BUTT! There is this beautiful girl standing over earth looking into the horizon. You get this feeling like she is talking the sun and asking why it is so hot here on earth. The sun is shining on her face and you get a glimpse into what she is thinking.
My Thoughts/Review: Okay let me first start out by saying I really did not think I was going to like this book. I read the blurb and thought okay Global warming crisis in a book? WTH! But boy oh boy does P.J. surprise you with a story of a lifetime! I so loved it from the moment I opened the first page to the very end. The neatest part of the book was that it wrapped Greek mythology with a dystopian twist! This book is caliente and for those of you who don't know that word it is hot…hot…hot…
The ultimate question you have to ask yourself is what would you do for love? How far would you go, to the ends of the earth? Would battle someone or something to get that love back?
Okay so here goes the review, Piper is a girl who is sheltered by her mom. She lives a life of loneliness except for her best friend Chloe. Then on her eighteenth birthday things change for Piper. She gets rebellious and gets a tattoo with Chloe of a Greek word standing for Sacrifice, θυσία (thysía). Soon after she gets her tattoo with Chloe she meets Shayne which she knows she has never seen before but she feels like she has known him her whole life. She is instantly attracted to him and wants to kiss him. Then comes along Mr bad boy Reese who is HOT times 100 and bad to the bones. Reese asks her out on a date and she says yes. She is afraid because her mother told her she can not date so she will have to sneak out and Reese says he will help her do that. There's only one problem Chloe is in love with Reese and wants him all to herself. What is a girl to do?
This is a story of love and loss and finding your true self. It's about sacrafices friends make for one another and how true love can stand the test of time. You will not be disappointed after reading this book. In fact it left me wanting more and I just have to find out what happens between Piper and Shayne and also Piper and Reese. Happy Reading because I know I did.
Memorable Quotes: Page 39 Reese and Piper are on a date. "You're smiling." Reese reaches across the table and takes my hand. I've set my wine glass
down, freshly filled and only a sip taken.
He's right. I am smiling. "Is that okay?"
Reese flashes his teeth, and in his face, I see Shayne. I try to bring Shayne into my thoughts,
but he won't come. He's slipped out of my mind; there's not room for both of them, and right
now, I'm totally occupied with the overpowering presence of Reese.
"You are totally sexy when you smile."
I know my face must be bright red, but his comment only makes me smile more. "You're not
so bad yourself." And it's true. Reese has been perfect. Funny. Gorgeous. Reckless.
"I love you."
His words stop my breath.
"I swear I'm in love with you."
My eyes manage to find his and lock onto them. I'm sure he's joking. But his eyes aren't
laughing. The blue's darkened, and the emotion behind them makes me hold my breath until I
realize I've stopped breathing.
Advice: Hot Summer Must Read!
Image and Blurb from: www.goodreads.com