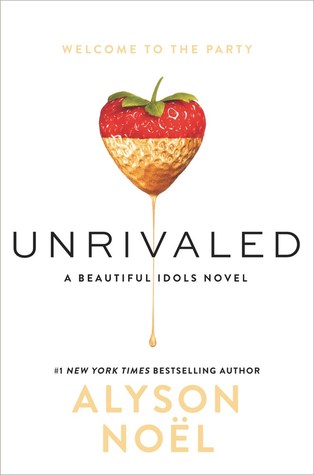 Everyone wants to be someone.
Layla Harrison wants to leave her beach-bum days for digs behind a reporter's desk. Aster Amirpour wants to scream at the next casting director who tells her "we need ethnic but not your kind of ethnic." Tommy Phillips dreams of buying a twelve-string guitar and using it to shred his way back into his famous absentee dad's life.
But Madison Brooks took destiny and made it her bitch a long time ago.
She's Hollywood's hottest starlet, and the things she did to become the name on everyone's lips are merely a stain on the pavement, ground beneath her Louboutin heel.
That is, until Layla, Aster, and Tommy find themselves with a VIP invite to the glamorous and gritty world of Los Angeles's nightlife and lured into a high-stakes competition where Madison Brooks is the target. Just as their hopes begin to gleam like stars through the California smog, Madison Brooks goes missing. . . . And all of their hopes are blacked out in the haze of their lies.
Unrivaled is #1 New York Times bestselling author Alyson Noël's first book in a thrilling suspense trilogy about how our most desperate dreams can become our darkest nightmares.
First off I have to say that this is one book I loved to hate at first then I just straight loved it. It was rough starting the story because it was a little slow to me but then I got into it around chapter four and there was no stopping me.
This is a story about four people who all live different lives. You have Layla who is finally taking life seriously and becoming a reporter. Aster the actress who is too ethnic for movies. Tommy who thinks that getting a guitar and playing for his father will gain his respect back and his father will open his arms wide for him to come home. Then you have the one character I hated right from the start and that is Madison who is the hottest star right now.
But with every ambitious action comes consequences and one of these four is about to find out you don't step on people to get to the top without getting your own bad karma bad to kick your arse.
Alyson Noël is the #1 New York Times best selling, award-winning, author of 23 novels, including: FAKING 19, ART GEEKS AND PROM QUEENS, LAGUNA COVE, FLY ME TO THE MOON, KISS & BLOG, SAVING ZOË, CRUEL SUMMER, FOREVER SUMMER (a LAGUNA COVE/CRUEL SUMMER 2-in-1), KEEPING SECRETS (a SAVING ZOË/FAKING 19 2-in-1), the IMMORTALS series: EVERMORE, BLUE MOON, SHADOWLAND, DARK FLAME, NIGHT STAR, EVERLASTING, the IMMORTALS spin-off, RILEY BLOOM series: RADIANCE, SHIMMER, DREAMLAND, WHISPER, THE SOUL SEEKERS series: FATED, ECHO, MYSTIC, HORIZON; with short stories appearing in the anthologies FIRST KISS (THEN TELL), KISSES FROM HELL, & DEAR BULLY.
Up next: my new YA series, UNRIVALED, in stores 05.10.16, and KISS MY WISH, my new MG novel, in stores 12.13.16!
With over 8 New York Times bestsellers in 2 years, and over 6 million copies in print, her books have been translated into 37 languages, sold in over 50 countries, and have made the New York Times, USA Today, Publishers Weekly, Wall Street Journal, LA Times, NCIBA, and Walmart bestsellers lists, and have won numerous awards such as: the National Reader's Choice Award, NYLA Book of Winter Award, NYPL Stuff for the Teenage, TeenReads Best Books of 2007, Reviewer's Choice 2007 Top Ten, appeared on the CBS Early Show's "Give the Gift of Reading" segment, and selected for Seventeen Magazine's "Hot List" and Beach Book Club Pick.
Chosen as one of OC Metro magazine's "20 Women to Watch," she's been nominated for the Orange County Business Journal's "Women in Business Awards" as well as their "Excellence in Entrepreneurship" award. Her adult novel, FLY ME TO THE MOON, was optioned by Ridley Scott's, Scott Free Productions, with Sharon Maguire (Bridget Jones' Diary) set to write and direct, and all 4 books in THE SOUL SEEKERS series has been optioned by Cheyenne Enterprises.
Born and raised in Orange County, California, she's lived in both Mykonos and Manhattan and is now settled in Southern California where she's working on her next book.
For more information you can follow me on Twitter:
Download the Alyson Noel App for free at: