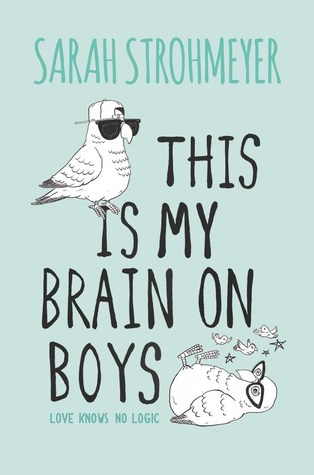 Jane Austen's Emma meets The Rosie Project in this quirky, irresistible, romantic comedy from Sarah Strohmeyer, the author of Smart Girls Get What They Want.
Addie Emerson doesn't believe in love. Not for herself anyway. With one year left of high school, she's more interested in snagging a full scholarship to Harvard than a full-time boyfriend.
That doesn't mean she's oblivious to the ways of the heart. Or, rather, the head. Because after months of research, Addie has discovered how to make anyone fall in love. All you need is the secret formula.
But will her discovery be enough to win the coveted Athenian Award and all its perks? (See above, full scholarship to Harvard.) Or will she be undone by Dexter, her backstabbing lab partner, who is determined to deep-six her experiments at their exclusive private school?
Those are the least of her problems now that she's survived a death-defying flight with a mysterious, dark-haired boy, who has delicious chocolate-brown eyes and a few secrets of his own.
With an experiment to mastermind, an infatuated exchange student on her hands, and at least one great white shark (more on that later), can Addie's prefrontal cortex outwit her heart? Or will she have to give in to her amygdala and find out, once and for all, if this thing called love is more than just her brain on drugs?
Okay I must be on a roll with books that drive me crazy but I keep reading them and end up liking them. I have to say that this story started out very very slow for me and I was a little confused about the characters and the roles they played but after stopping and starting a few times I really got into the story and laughed at some of the shenanigans Dex put Addie through.
Addie is in her senior year of high school focusing on getting a scholarship to Harvard. She could care less about boys and dating and doing fun stuff. She has her heart set on winning this scholarship and she comes up with a foolproof formula for people to fall in love and stay in love. But she has one thorn on her side and that is her lab partner Dex. Dex does everything in his powers to stop Addie from getting that scholarship.
If things were not crazy enough she meets a mysterious boy with chocolate eyes and she is starting to feel things she has never felt. Will she win the scholarship and the boy or will she lose both......
Sarah Strohmeyer is the award-winning, nationally bestselling author of fifteen novels one of which,
THE CINDERELLA PACT, became a Lifetime Movie, LYING TO BE PERFECT.
Her first mystery, BUBBLES UNBOUND, won the Agatha Award and THE SLEEPING BEAUTY PROPOSAL was nominated for a prestigious RITA™.
Her books have been translated into German, French, Italian, Turkish, Taiwanese and a bunch of others.
Her first young adult novel, SMART GIRLS GET WHAT THEY WANT, will be published by Balzer + Bray, an imprint of HarperCollins, on June 26, 2012.