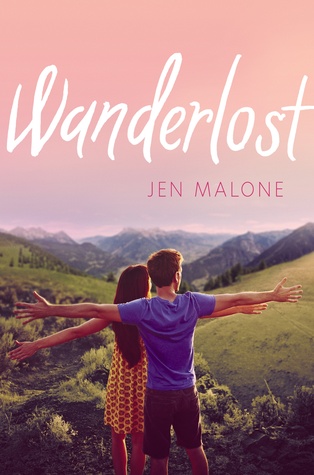 Not all those who wander are lost, but Aubree Sadler most definitely is on this novel's whirlwind trip through Europe.
Aubree can't think of a better place to be than in perfectly boring Ohio, and she's ready for a relaxing summer. But when her older sister, Elizabeth, gets into real trouble, Aubree is talked into taking over Elizabeth's summer job, leading a group of senior citizens on a bus tour through Europe.
Aubree doesn't even make it to the first stop in Amsterdam before their perfect plan begins unraveling, leaving her with no phone, no carefully prepared binder full of helpful facts, and an unexpected guest: the tour company owner's son, Sam. Considering she's pretending to be Elizabeth, she absolutely shouldn't fall for him, but she can't help it, especially with the most romantic European cities as the backdrop for their love story.
But her relationship with Sam is threatening to ruin her relationship with her sister, and she feels like she's letting both of them down. Aubree knows this trip may show her who she really is—she just hopes she likes where she ends up.
This book was funny to me. I am one of those crazy readers where I decide to read a book based on the cover and the synopsis. Well with this book I got so much more than what I expected. I thought okay a summer romance, fun in the sun, and traveling who can ask for more. Well let's just say that Aubree got more than she thought she would but hey fair exchange ain't no robbery.
See Aubree has a party that gets out of control and her sister comes to her rescue. So when her sister gets into real trouble Bree has to do her sister's summer job. Okay sounds fun right well no way jose was this fun for her. First of all Bree is going to be a travel guide for senior citizens. She is going to be traveling country to country and she is expected to know all about each country. Then she has a companion Sam who turns out to be the tour owners son. Does this sound fun so far.... NO WAY!
Tehehehe this is such a great story that unfolds for Bree and Sam that once you start reading it you will not be able to put it down. So go ahead and travel all of Europe in this book!
Sure, I could give you my business resume (and my formal bio is below in pink if you just want to skip there), but where's the fun in that? Wouldn't it be more enjoyable for all of us if I told you a few random things about, well, me? Thought so. Here ya go:
1. My college boyfriend wanted to go to Europe with me the summer after graduation. Then he broke up with me (don't worry- we're now friends on Facebook). I decided to get revenge on him by one-upping his trip plans, so I saved for a loooong time until I could finance a solo round-the-world trip that took me to forty-three countries over ten months on approximately $23 a day (free advice: do not try to save money by sleeping in an ATM kiosk during Spain's annual Running of the Bulls). My favorites were Nepal and Prague. Somewhere in here is a lesson about revenge and boys, but who cares, because NEPAL!!!!!
2. I met my husband on the highway. Literally. He passed my car and I made a face at him (I was with my BFF and we sometimes- fine, often- did silly stuff like make faces at total strangers). Then HE made a face back at me the next time we passed, which was both nerdy and cool. I happen to like nerdy and cool. So I wrote my BFF's cell phone number (because this was the Dark Ages and I didn't own a cell phone yet) on a piece of paper and held it up to the window. He called. We married. There was some dating in between.
3. My twin boys are soooo identical that they won second place in the Most Identical contest at the International Twin Festival. You should definitely check out the International Twin Festival sometime. Best people watching around.
4. I also have a daughter. Despite having won no medals, she's more of a diva than both boys combined. I completely applaud this. Until she's a teenager and then I am in So. Much. Trouble.
5. For a bunch of years I worked as a publicist for 20th Century Fox. It was super tough work. I "had to" walk the red carpet alongside George Clooney, hang in a hotel room with a shirtless Mark Wahlberg (so what if his wife was there too) and sleep in Oprah's hotel room at The Four Seasons (she'd checked out early and, I mean, we'd already paid for the room, so...).
6. Many, many, MANY years ago (when the longest thing I'd written was a grocery list) a psychic touring a movie set I was working on told me I would write a book with a purple cover and live in a big white house by the water. Imagine my surprise when I first laid eyes on
the
cover
Simon & Schuster designed for AT YOUR SERVICE. Beach house, here I come!
7. I have a teeny tiny, make that HUGE, thing for hedgehogs.
Still can't get enough of me? I believe I hear my children snorting. Anyhoo... you can visit
FUN STUFF
for an interview, a list of online musings, and links to my blog(s).
If you happen to be here on official business, first, let me assure you that I do not make a habit of sleeping in ATM booths. Second, here is my "formal" bio:
Jen Malone writes sweet and funny books about tweens and teens for readers of all ages. Her middle grade titles include At Your Service, the You're Invited series (co-written with Gail Nall), and the upcoming The Sleepover, all with Simon & Schuster/Aladdin. Her Young Adult titles (with HarperCollins/HarperTeen) include Map to the Stars and the forthcoming Wanderlost. Jen's a former Hollywood movie executive who once spent a year traveling the world solo, met her husband on the highway (literally), and went into labor with her identical twins while on a rock star's tour bus. These days she saves the drama for her books. You can learn more about her and her titles at
www.jenmalonewrites.com