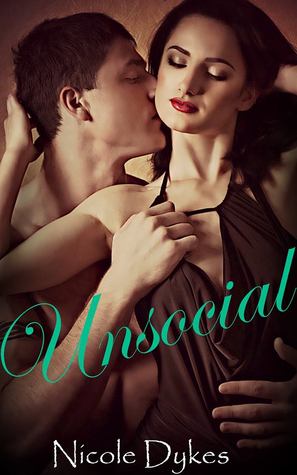 I'm living the dream. A successful business owner of a custom car and motorcycle shop in Oklahoma and master of my own destiny. Other than my best friend and business partner my life is my own, and I answer to no one. Then my life changes with a single phone call and I'm back in Kansas fighting for guardianship of my four younger siblings. Now I answer to her, Brooke Porter.
I've devoted myself for the past six years to my dream of being a social worker. My very first case are the Monroes, and professional and personal boundaries blur as I become closer to them. Now my dreams are of Dylan. The attraction Dylan and I have is heading us straight to unsocial behavior.
What will we be risking if we give in?
*Unsocial is a New Adult Romance novel that contains mature content and is not suitable for anyone under 18.
I received this book in exchange for an honest review. I have to say that this book is amazing. I have been reading a lot of books but not like this one. First I know people are going to say that it is a long book and to that I say yes it is but the story is so good that you follow along and before you know it you are done reading because you can't put it down.
This is the story of Dylan & Brooke. Dylan has it all. He has moved to another town and started a custom car and motorcycle shop with his best friend. He is living his life and doing what he wants to do for a change. That is until he gets a phone call and in that instance his life is changed.
Dylan gets a call in regards to his siblings and his life is changed forever. See Brooke is a social worker and she has taken a liking to the Monroe children. She knows she is not supposed to but she can't help it. So when they have to be removed from the home she contacts their oldest sibling and that is Dylan. As Dylan fights to get custody of his siblings he starts to have feelings for Brooke.
But can anything come from this? Can Brooke and Dylan have a relationship that will last? This is a story that will have you sitting on the edge of your seat needing to turn the page faster.
I grew up in a small rural town in Kansas and currently live in a suburb of Kansas City. I love to read books that have main characters that are seriously flawed. I love to write and have been writing since I was in grade school. I wrote for my college newspaper and I just published my first book March 2015! It is the first of a series and I am now working on the 2nd book!