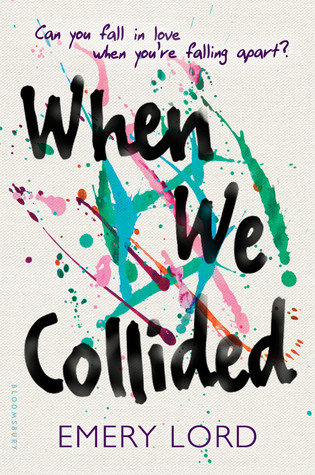 We are seventeen and shattered and still dancing. We have messy, throbbing hearts, and we are stronger than anyone could ever know…
Jonah never thought a girl like Vivi would come along.
Vivi didn't know Jonah would light up her world.
Neither of them expected a summer like this…a summer that would rewrite their futures.
In an unflinching story about new love, old wounds, and forces beyond our control, two teens find that when you collide with the right person at just the right time, it will change you forever.
When I first saw this book and read the synopsis I said this is a must read I just know it. So I looked on the author's web page and read some reviews about the book and was so excited I was going to be able to read an arc copy.
The day I received the book in the mail I stopped all my reading to devour this book. I was not disappointed when I started reading. I love how Jonah and Vivi navigate through the tough times to see a brighter future.
Mental illness is such a prevalent issue in our teens today that I was glad the author wrote this story and was true to the mental illnesses faced by teens today. From depression to BiPolar you get a glimpse into Jonah and Vivi's world. This is a must read story that will have you laughing and crying all in one.
Emery Lord is a 20-something Midwestern girl who writes stories about high school and best friends and weird families and the crushes fluttery and so painfully awkward you could implode.
She lives in Cincinnati in a 100 year-old pink row house with a scientist, a one-eyed beagle, and a dog named Winston Churchill.