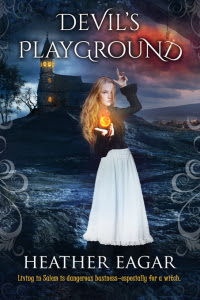 Sixteen-year-old Elizabeth Winters may be a witch, but she doesn't know the first thing about magic—unless you count accidental bouts of spontaneous combustion. Elizabeth's father, a wizard himself, has forbidden the use of her powers for her own protection, but when accusations of witchcraft start flying through Salem Village, she wishes she was more prepared.
Despite her lack of magical knowledge, Elizabeth appoints herself to save innocent women from the demise the village has in store for them. Elizabeth finds, however, that she is not the hero Salem needs her to be.
She meant to save them. She cursed them instead.
First I have to say this I have never read a historical fiction book that was true to the events as this book is. I loved every minute of this book and I want no I need more. I have to say that Heather got the Salem Witch Trials down to a tee. I could not get enough of this story and not only did she use the Salem witch trials but she used the ten plagues of egypt.
Elizabeth is a 16 year old witch. Her father is a wizard and she lives in Salem. She knows she must keep her family's secret because they would be persecuted by the village. It is that reason she is concerned when rumors fly in her village that there are witches in it. As people are rounded up and accused of witchcraft she wants to help the accused get free.
As she tries to clear the names of the accused she is betrayed by someone close to her. She gets upset and curses the village. She soon realises she has made a huge mistake because she has cursed the village with the ten plagues of egypt. She knows she must stop the curse before the last plague comes to the village.
Will she be able to stop the plagues in time to save her village or will the last plague come to the village and destroy it.
Barnes and Noble:
Amazon:
I-Tunes:
Kobo:
Smashwords:
Q: How did you come up with the idea for Devil's Playground?
A: It was actually my husband's idea! Years ago when I was working on a different novel he said, "Hey, why don't you do a story about an actual witch who lives in Salem during the witch trials." I thought it was the best idea EVER and took it from there. It has become quite a different story than either of us envisioned, but so much better.
Q: Do you use actual people from the trials in your story?
A: Yes, I do! My main characters are mostly fictional, but I use actual people from the trials as supporting characters, and also some of quotes from the trials as well.
Q: Is Devil's Playground a part of a series, or is it just one book?
A: I always intended for it to be just one book. Even as I was submitting it to agents and publishers, I didn't want there to be a sequel. But with some invaluable feedback, my whole ending changed. And with that change, it seemed pretty clear that there was more to Elizabeth's story. So…that was a long answer to say, it is the first book in a series. Because I never intended for there to be another book, I am still in the rough draft stage for book #2.
a Rafflecopter giveaway
About the Author:
Heather Eagar currently resides in Logan, Utah where she strives to balance her love of writing with raising a husband and two kids. Devil's Playground is her debut novel, but it will not be her last. She is currently working on the second book in the series. Heather is also a book reviewer and you can find reviews for Middle-grade fiction through Adult novels on her website, www.heatheraeagar.com.
Goodreads:
Facebook:
Twitter:
Instagram: