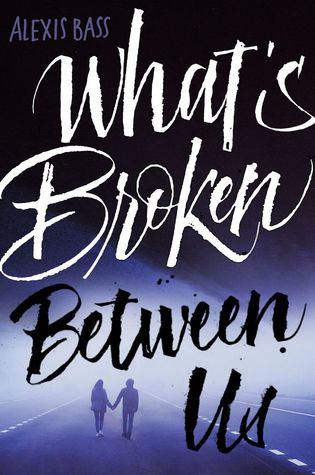 Alexis Bass's heartbreakingly beautiful second novel is a tale of love, loss, and learning to forgive.
Look to the left, look to the right. We're all going to die. But someone has to do it first. So who's it going to be?
Tragedy struck Amanda Tart's town a year and a half ago when a sophomore girl was killed in a car accident on graduation night.
Amanda's brother, Jonathan, was behind the wheel and too drunk to drive. He's spent the past year in prison and has cut off all ties. But now Jonathan is coming home. Just as Amanda's trying to figure out what that means for her family and herself, she's paired up for a school project with Henry Crane—a former crush, and brother of Jonathan's ex-girlfriend, who survived the crash with horrible injuries.
Everyone is still incredibly damaged by the events of that night. Can Amanda and Henry finally begin to heal what's broken and find some peace?
This story was amazing, just simply amazing. It has loss, hatred, forgiveness, and love in it. This is a story that has happened in real life and when I read it it made me think about a case I just read on CNN News.
In this story we meet Amanda Tart who is in between a rock and a hard place. On graduation night a year and a half ago there was a car accident that killed one of her class mates and involved her brother. Her brother was drunk and driving and crashed the car and killed his girlfriend.
Jonathan was sent to prison and has been there for some time but now he is on his way home and back to the town that has not forgiven him. What is Amanda and the town supposed to do? As the the town moves on and Amanda tries to move on in school she gets the biggest surprise of her life. She has a project and she will get a partner and this partner is the brother of the girl her brother killed. Henry and Amanda will have to learn to work together in order to get over the tragedy that has effected both families.
Will they fight through the loss and pain or will they turn their backs on one another and the project?
Alexis Bass grew up in Washington, went to college in Arizona, and spent her early twenties in Seattle. She currently lives in Northern California with Dylan McKay, her gorgeous and rambunctious golden retriever. She loves good fashion and good TV as much as a good book, and is a huge advocate of the three C's: coffee, chocolate, and cheese.
WHAT'S BROKEN BETWEEN US (HarperTeen) will be available in December 2015.
She is repped by Suzie Townsend at New Leaf Literary & Media, Inc.