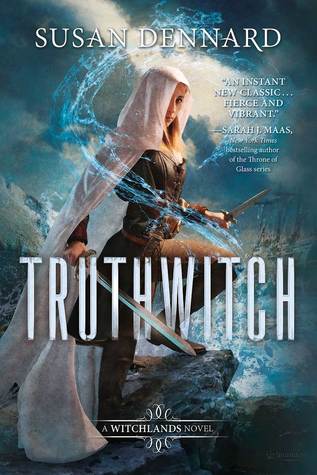 On a continent ruled by three empires, some are born with a "witchery", a magical skill that sets them apart from others.
In the Witchlands, there are almost as many types of magic as there are ways to get in trouble—as two desperate young women know all too well.
Safiya is a Truthwitch, able to discern truth from lie. It's a powerful magic that many would kill to have on their side, especially amongst the nobility to which Safi was born. So Safi must keep her gift hidden, lest she be used as a pawn in the struggle between empires.
Iseult, a Threadwitch, can see the invisible ties that bind and entangle the lives around her—but she cannot see the bonds that touch her own heart. Her unlikely friendship with Safi has taken her from life as an outcast into one of reckless adventure, where she is a cool, wary balance to Safi's hotheaded impulsiveness.
Safi and Iseult just want to be free to live their own lives, but war is coming to the Witchlands. With the help of the cunning Prince Merik (a Windwitch and ship's captain) and the hindrance of a Bloodwitch bent on revenge, the friends must fight emperors, princes, and mercenaries alike, who will stop at nothing to get their hands on a Truthwitch.
Holy Hell this book is the one to watch out for because it takes you on a journey that will have you thinking about the story long after you have finished reading it.
War is coming to The Witchlands. It is a Continent ruled by three Empires. The three empires have different magical abilities. Some are born with a witchery magical skill that sets them apart from others. Safi is a truthwitch which can discern a lie from the truth. Her best friend Iseurt is a thread witch who can see ties that bind and entangled the lives around her.
Safi has to keep her magical abilities a secret because all three Empires want a truthwitch for their own selfish wants. The girls will fight lots of bad guys and get help from some good guys but in the end the girls have no idea what will happen.
Will they win this war or will the lose and Safi the Truthwitch be a slave to the devil.........
Susan Dennard has come a long way from small-town Georgia, where she suffered from mosquitoes, humidity, and a desperate desire to live in a castle. There were also crazy vegetarian parents involved. Needless to say, she read a lot in those days and often composed wretched stories for her sister's amusement. Eventually, she went off to university, got a Masters in marine biology and statistics, and thought she would devote her life to saving the world from overfishing…Until she met a handsome Frenchman, that is. A year later, when it came to pursuing her PhD or joining aforementioned Frenchman in Europe, Susan chose the latter. With no oceans nearby, she turned her attention to writing for publication. Three years later, her debut novel, Something Strange and Deadly was published by HarperCollins, and you can look for her forthcoming Truthwitch in fall 2015 from Tor.
These days, Susan spends most of her time writing more novels or teaching aspiring authors. She also enjoys long walks on the beach—really, she does! Tidal pools are always fun to marine biologists. She also enjoys long walks with her dogs (an Irish setter named Asimov and a terrier mutt named Princess Leia). But most of all, Susan enjoys reading. Science fiction, fantasy, literary—they're all consumed with enthusiasm.
Oh, and Susan's favorite food is "cookies." She consumes those with enthusiasm, too.