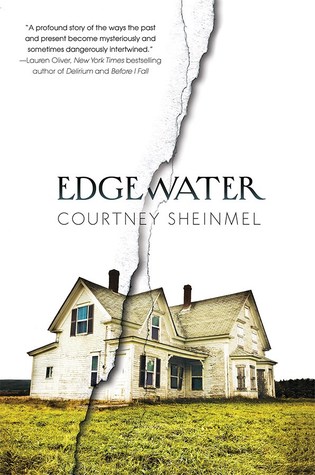 Lorrie Hollander used to be a rich girl, but now she's lost everything because of the secrets and lies of the people around her. It's been 12 years since Lorrie's mother skipped town and left Lorrie in the care of her unstable aunt Gigi. Together they live in a neglected, decrepit mansion called Edgewater, the eyesore in a town of extraordinary wealth and privilege.
When Charlie, the son of an esteemed senator, takes an interest in Lorrie, her shame for her family and lifestyle runs deep. But what she doesn't know is that Charlie's family is hiding something, too, and that their secrets are inextricably tied. Now Lorrie must confront the truth about her family—and everything she ever thought she knew about herself.
Man oh man I did not expect this book to be what it was. I mean there is mystery, suspense, lies and hidden truths.
This story starts out with Lorrie living her dreams by going to Boarding school and having the life. Then one day the money is gone and she is sent to live with her estranged mother and aunt Gigi in a rich town full of mansions and money only she will be living in a neglected mansion that is falling apart. The mansion is called Edgewater because it once was beautiful but is now the towns eye sore.
The most wealthy people live here in Edgewater and as Lorrie settles in she meets Charlie who is a Senators son but down to earth and takes a serious interest in Lorrie. What Lorries doesn't realize is Charlie is hiding his own secrets that may or may not tie the families together.
I graduated from Barnard in May 1999!
Born: June 21, 1977, in Stanford, California
Raised: in the San Francisco Bay Area until I was nine and my parents divorced. Then my mom, sister, and I moved to New York City, where I've lived ever since.
Education: High School: The Spence School. College: Barnard College (part of Columbia University), where I majored in English with a writing concentration, and minored in Psychology and Sociology. Law School: Fordham School of Law (yeah, I know! Law school! And that's why sometimes my characters' parents are lawyers…and sometimes they need lawyers).
Favorite Color: I'm not sure I really have one, but I have to pick, I'd say yellow.
Favorite singers: Carly Simon, Sheryl Crow, and Madonna
Favorite song: What I Did for Love, from the soundtrack to "A Chorus Line"
Favorite food: macaroni and cheese. (If you visit New York, I'd recommend the mac & cheese
here.
)
Favorite dessert: Levain Bakery chocolate chip walnut cookies. I wrote about them
here.
Least favorite foods: yogurt and olives
Writing routine: on a good day, 1000 words. (On a great day, even more.)
That's me with Carly Simon (She's 6 feet tall)!
"Be kind, for everyone you meet is fighting a hard battle." - Plato
"Instructions for living a life: pay attention, be astonished, tell about it." - Mary Oliver
"I've learned that people will forget what you said, people will forget what you did, but people will never forget how you made them feel." - Maya Angelou
Courtney Sheinmel is the author of
My So-Called Family
,
Positively
,
Sincerely
,
All the Things You Are
, and the
Stella Batts
series for young readers. Her books have received numerous awards, including the Sequoyah Award (Positively), a National Parenting Publication Awards honorable mention (the Stella Batts series), and have appeared on recommended lists, including the New York Public Library's Stuff for the Teenage, and the ABC Best Books for Children.
In addition to writing, Courtney served as a judge on the national level for the Scholastic Art & Writing Awards, and she received a National Scholastic Outstanding Educator Award for her work as a writing instructor at Writopia Lab, a non-profit organization serving kids ages 8-18. Courtney lives in New York City.
I LOVE TO HEAR FROM MY READERS! Please email me:
Find me on Facebook:
https://www.facebook.com/courtney.sheinmel
Follow me on Twitter:
https://twitter.com/courtneywrites
And Instagram:
http://instagram.com/courtneysheinmel
And Tumblr:
http://courtneywrites.tumblr.com
Check out my Pinterest boards:
http://www.pinterest.com/courtneywrites