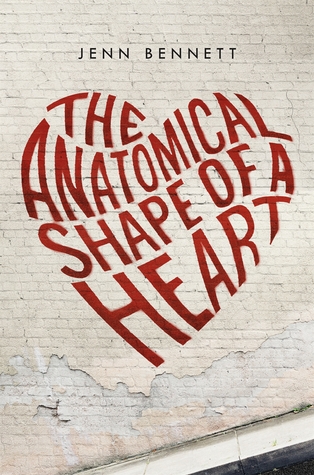 Artist Beatrix Adams knows exactly how she's spending the summer before her senior year. Determined to follow in Leonardo da Vinci's footsteps, she's ready to tackle the one thing that will give her an advantage in a museum-sponsored scholarship contest: drawing actual cadavers. But when she tries to sneak her way into the hospital's Willed Body program and misses the last metro train home, she meets a boy who turns her summer plans upside down.
Jack is charming, wildly attractive . . . and possibly one of San Francisco's most notorious graffiti artists. On midnight buses and city rooftops, Beatrix begins to see who Jack really is—and tries to uncover what he's hiding that leaves him so wounded. But will these secrets come back to haunt him? Or will the skeletons in Beatrix's own family's closet tear them apart?
First I have to say that this book really took me by surprise. I thought I was going to be reading a love story but what I got out of this story was so much more.What I got was a story where two people want something different from their lives. What they get is so much more from each other and the two take a journey where they think about what they want and the how to reach that goal. Plus they find out secrets that could crush them or keep them together.
Bex is an artist and she wants to spend the summer before senior year being like Leonardo Da Vinci and drawing cadavers. But as she is going to catch the bus she misses it. She is so nervous because she does not want to be on the late bus with all the creeps and weirdos. But she gets on the bus and that is where she meets Jack.
Jack and Bex start to talk and find they have so much in common. As they spend more and more time together Bex suspects that Jack is something other than he says and wants to find out the real Jack but finding that out may uncover other secrets that could push them together or pull them apart.
What will happen to Jack and Bex........
Jenn Bennett is an artist and RITA-nominated author of the Arcadia Bell urban fantasy series (Kindling the Moon) and the Roaring Twenties romance series, including Bitter Spirits, which was chosen as one of Publishers Weekly Best Books of 2014 and winner of RT Book Reviews Paranormal Romance Book of the Year, and Grave Phantoms—which was awarded RT's May Seal of Excellence for 2015. The Anatomical Shape of a Heart, (aka Night Owls in the U.K.) is her first YA contemporary romance. She lives near Atlanta with one husband and two evil pugs. Visit her at
www.jennbennett.net
.